Privacy Policy 
Policy Created: 17th May 2016
Policy Updated: 29th August 2019
Privacy Policy for jobinaclick.net
Modern information and communication technologies play a fundamental role in the activities of an organization like Join The Triboo Ltd. We are a web services provider based in the United Kingdom.
Our principal activities are:
web publicity display, e-mail marketing and mobile marketing services to promote a wide range of products and services.
client recruitment campaigns through the internet and affiliate marketing. 
We carry out such marketing activities for third parties (who may operate in any business sector) and are referred to in this Privacy Policy as Our Business Partners and Clients. 
This privacy policy describes how Join The Triboo Ltd. will use the information that you provide to it (whether by completing the registration form or using its website,  jobinaclick.net)
Join The Triboo Ltd company information
The Company complies with the UK Data Protection Act 2018, General Data Protection Regulation 2016/679 (GDPR) and the (EC Directive) Regulations 2003 which govern how it must handle personal information (PECR). 

Company Name: Join The Triboo Ltd

If you have an enquiry or concern about our privacy policy, you can contact our 
Privacy Officer

Name: Marco Vincenzo Sicuro
Contact: marco.sicuro@triboo.com
Company Name: Join The Triboo Ltd

Registration Number: 07152223
ICO Number: Z222511X

VAT: GB102437752
Address: 26 - 28 Hammersmith Grove, Office 808
City, Postcode: London, W6 7BA

State: London 
Country: England 
Data Controller: Join The Triboo Ltd
Providing Visitors with Anonymous Access 
You can access our Web site home page and browse our site without disclosing any personal data.
The services and links of our Web site 
Our Web site enables you to communicate with other visitors or to post information to be accessed by others. When you do so, other visitors may collect and process your data.
As a convenience to users, our Web site includes links to other web sites or material which may be outside our control. We are not responsible for any information collected by third party web sites and/or for any content on any site outside our Web site.
 Automatic Collection of Information 
We automatically collect and process personal data by means such as programming and we link information automatically collected and processed by such means with personal data about specific individuals. We do so for the following purposes:

• Technical administration of the Web site 
• Research and development 
• Customer administration 
• Marketing 
• Trading in personal data
We use cookies to store personal data or we link information stored in cookies with personal data about specific individuals. We do so for the following purposes:

• Technical administration of the Web site 
• Research and development 
• Customer administration 
• Marketing 
• Trading in personal data 
Here you will find a list of suppliers who are authorized to place and read cookies on our properties (including websites and emails), as well as information on how to opt-out through their privacy policies."
Category: Personalized advertising & email marketing
When you use our website, we share information that we may collect from you, such as your email (in hashed, de-identified form), IP address or information about your browser or operating system, with our partner, LiveRamp Inc and its group companies ('LiveRamp'). LiveRamp may drop a cookie on your browser or directly in our emails and match your shared information to their on- and offline marketing databases and those of its advertising partners to create a link between your browser and information in those other databases. Similarly, when you use our mobile apps, we may also share hashed and de-identified email addresses, mobile device ID, location data, and advertising identifiers with LiveRamp, which uses that information to create a link between your mobile device and its databases. This link may be shared by our partners globally for the purpose of enabling interest-based content or advertising throughout your online experience (e.g. cross device, web, email and in app etc.) by third parties unaffiliated with our website. These third parties may in turn link further demographic or interest-based information to your browser. 
You have the right to exercise your rights under GDPR including opting out of LiveRamp's Cookie or Mobile Identifiers and can easily do so by clicking on this link: https://your-rights.liveramp.uk/home
Data Collection and Purpose Specification 
We collect the personal data that you may volunteer while using our services. 
We do not collect information about our visitors from other sources, such as public records or bodies, or private organisations.
To access the table of personal data types collected and purposes for which they are used, go to the end of the page. Please note that any purposes listed in the table below are referred to in this Privacy Policy as Commercial Purposes.
We do not collect or use personal data for any purpose other than those referred to in the table below. If we wish to use your personal data for a new purpose, we will give you the opportunity to consent to this new purpose: by indicating in a box at the point on the site where personal data is collected.
Your data may be transferred outside of the European Economic Area (the "EEA"). Any transfers of your data outside of the EEA will be made in accordance with the The General Data Protection Regulation. You can obtain more details of the protection given to your personal data when it is transferred outside the EEA by contacting us via the contact details mentioned above.

Your personal information
When you register with us we ask for personal information such as your name, date of birth, contact details, and other details listed in the table below. We use this information for directing advertising campaigns, but never to process, or aid the process of, job applications. Your gender and date of birth information will always remain confidential to any recruiters or employment companies that we work with.
When you are registering with us it is not until you click the Sign Up or "Register" button that your information is transferred.
Once you register with us and agree to the terms and conditions of this Privacy Policy that govern how your information will be processed, you will not be anonymous to us and our partners and clients and will become one of our users.
Additionally, if you input your information on a co-branded registration page, eg one of our partners or clients registration page, then the information that you give becomes the joint property of us, our partners and clients. We are not responsible for the information that our partners and clients receive.
The website and any services offered through the site are reserved for adults of the age of 18+. The Data Controller will not knowingly collect or store data from anyone under the age of 18. Should this not be the case, the users can request the Data Controller to immediately delete all personal data inadvertently collected and relating to subjects under the age of 18.

How to access, correct or delete your Personal Information
If you want to obtain access to any personal information that We hold about you, or believe any of your personal information that We hold is inaccurate, incomplete or it is not necessary to hold it or if you want to delete your personal information from Our database, you can contact Us on one of the channels below. Specifically, you have the following rights:
Right to Rectification
If at any point you believe the information We process on you is incorrect, you may at any time amend or update your data by contacting our Data Protection Officer.
Right to Erasure
Please send your request for erasure to our Data Protection Officer by email. If you request for your data to be erased, then we will confirm whether this can take place and the next steps that we will take. If we cannot erase your data, we will explain why and confirm any actions required to allow us to do so.
Right to Restrict Processing
If you make a restriction request, we will still store a copy of your data but cannot use this. We will inform you if the restriction needs to be lifted. You can make this request by email to our Data Protection Officer. If you request for your data to be restricted, we will confirm whether this can take place and the next steps that we will take. If we cannot restrict your data, we will explain why and confirm any actions required to allow us to do so.
Right to Object to Processing

You can object to the processing of your data at any time. This right will only apply if we are using your data in relation to a legitimate interest. If you object, we will no longer process your data unless we have a compelling and legitimate reason not to do so (e.g. a legal obligation). In this case, you will be informed why we cannot stop processing your data.

We will use reasonable efforts to resolve your request within 30 days. We are required to provide Our reasons if We refuse your request and, if you disagree, you are entitled to ask Us to make a note of the request with your information. We may charge a reasonable fee to cover Our costs of responding to your information requests.

RIGHT TO COMPLAIN
The Data Protection Act 2018 gives you the right to complain to the data protection supervisory authority where you live, where you work or where the infringement took place. In the UK, this is the ICO, and their contact details are below:
Website: https://ico.org.uk/global/contact-us/

Telephone: 0303 123 1113
Disclosure of personal information
With your consent, we may share, rent and sell your personal data or sell or rent our entire database to our partners and clients in any sector for any Commercial Purpose including marketing activities. By marketing activities, we mean the communication directly to particular individuals by e-mail, post, telephone or sms of any advertising or marketing material in respect of any product or service from us, our partners or clients. 
By registering with us, you acknowledge that we will not process any job application or submit any information on your behalf to any recruiter in respect of any job. You will have sole responsibility for your application in respect of any job vacancy.
If you subsequently decide you no longer wish to receive direct marketing/information from us, or no longer wish us to pass your information to third parties you should notify us accordingly by e-mail to: privacyuk@triboo.com 
By registering with us you permit us or our partners or clients to use such information that you provide to alert you to a range of promotions and competitions in respect of any products or services. We may contact you regarding site changes or changes to such products or services that you use.
When you register with us you can consent to us sending personally identifiable information about you to our partners or our clients and in particular we may: 
share, rent or sell such information for marketing purposes;
share your information with third parties as required to provide the service or the product you have requested;
send the information to our partners or clients who work with us for marketing purposes;
respond to subpoenas, court orders or legal process; 
Keeping our record accurate and up to date
We regularly review the personal data held by us to ensure that it is up to date, accurate and not held for longer than necessary for our internal processes or as otherwise required by law. Your co-operation in helping us to keep your data accurate by informing us of any change of name or change of address is an important part of this. If you would like to review or change the details you have supplied us with, you may do so at any time. 
Transferring your personal information outside the European Economic Area
We may transfer personal information for any Commercial Purpose to countries outside of the European Economic Area. As these countries may not have similar data protection laws and the EU General Data Protection Regulation (GDPR) 2016/79, in such case we will take steps to ensure that your privacy rights continue to be protected.
Children's Privacy 
We do not knowingly collect personal data from children.
To ensure that children's privacy is respected on our Web site, we: 
make reasonable efforts to verify that users are not children. 
Confidentiality / Security 
We give you the option of using a secure transmission method to send us the following types of personal data: 
• primary personal data (such as name and contact details) 
• other personal and profiling data (such as physical description, leisure activities) 
• identifiers (such as Web site password) 

We have implemented security policies, rules and technical measures to protect the personal data that we have under our control from: 
• unauthorised access 
• improper use or disclosure 
• unauthorised modification 
• unlawful destruction or accidental loss 
All our employees and data processors, who have access to, and are associated with the processing of personal data, are obliged to respect the confidentiality of our users and our visitors' personal data. 
We ensure that your personal data will not be disclosed to State institutions and authorities except where required by law or other regulation. 
When we temporarily provide personal information to companies that perform services for us, such as to send you email or samples, we require those companies to protect the information in the same manner as Join The Triboo Ltd. These service companies are not permitted to use your personal information for any other purpose than the reason you provided it to Join The Triboo Ltd. 
Your acceptance of these terms
By using this site, you consent to the collection and use of this information by us and to our privacy policy. If we change our privacy policy in any way, we will post these changes on this page. 
This policy does not apply to companies that we do not own or control, or to third parties other than our partners or our clients with whom we do not have any contractual relationship.

Access to the personal data we may hold about you 
If you have any questions, concerns or comments regarding us or our privacy policy or whether we are keeping personal data about you, please contact us:

We will provide you with a readable copy of the personal data which we keep about you, within a month. - although we may before require proof of your identity - We will provide the information without any charge. 
We allow you to challenge the data that we hold about you and, where appropriate, you may have the data: 
erased
rectified or amended
completed 
Privacy Support 

If you have an enquiry or concern about our privacy policy, please contact: 

Company Name: Join The Triboo Ltd
Registration Number: 07152223

VAT: GB102437752

Address: 26 - 28 Hammersmith Grove, Office 808
City, Postcode: London, W6 7BA

State: London 

Country: England 

Data Controller: Join The Triboo Ltd

Email address : privacyuk@triboo.com 
URL : https://triboo.com/
We do not recommend another means by which visitors' concerns may be addressed.
TABLE of personal data collected and purposes for which they are used
Primary personal data/Business information 
x volunteered by each visitor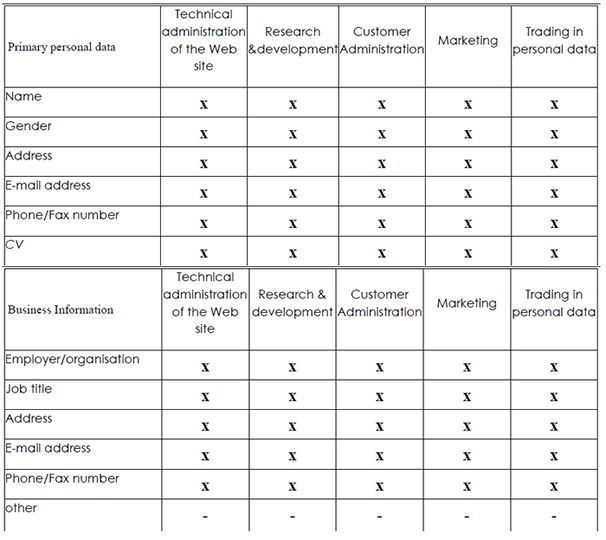 Other personal details and profiling data
x volunteered by each visitor 


Safeguards in place to ensure Personal Data
Join The Triboo will process users' personal data using manual and Informatic tools to ensure the security and confidentiality of the data.
The personal data of the Users of the Site will be kept for the time strictly necessary to carry out the primary purposes illustrated in the privacy policy or in any case for the protection in civil law of the interests of both Users and the Owner.
All data is stored on a secure server protected by WAF (Web Application Firewall) whose access is protected by user name and password. All logs are also registered.
Data Sharing 
Following explicit consent in the registration form Triboo may share your email address and job-related preferences with vendors that they use to send them email job alerts.

Furthermore, a user can easily unsubscribe from them.
Data Retention
We will only retain your personal data for as long as necessary to fulfil the purposes we collected it for, including for the purposes of satisfying any legal, accounting, or reporting requirements.
To determine the appropriate retention period for personal data, we consider the amount, nature, and sensitivity of the personal data, the potential risk of harm from unauthorised use or disclosure of your personal data, the purposes for which we process your personal data and whether we can achieve those purposes through other means, and the applicable legal requirements.

By law we have to keep basic information about our customers (including Contact, Identity, Financial and Transaction Data) for six years after they cease being customers for tax purposes. In some circumstances you can ask us to delete your data.
24 months after registering all inactive users are removed from our member base and placed in the suppression table. An inactive member is classed as anyone who has not opened or clicked an email for a period of 12 months.
You may be contacted by e-mail within the following categories
Various contests: 
Offers for surveys, sweepstakes, prize draws and free giveaways
Financial: 
Offers for professional associations; consumer, automobile and housing loans; household, automobile, travel and accident insurance; Claims (PPI/PBA). Our preferred partners in the claims sector are HQ Consultancy Ltd, Ascend Finance and Neilson Financial (Smart Insurance & British Seniors Insurance)
Credit Report
Pharmaceutical

Magazines and newspapers: 
Offers for newspapers and magazines on fashion, nature, photography, interior decorating, science, economics, fitness and lifestyle
Beauty and health tips: 
Offers for weight-loss products, dietary supplements, vitamins, creams and dental hygiene products
Clubs, organisations and web sites/portals: 
Charitable organisations, film clubs, dating sites and fitness centres
Electronics: 
Offers for TV providers, internet, mobile telephone service and web pages
Clothing, fashion and lifestyle: 
Offers for underwear, designer clothing, jewellery and makeup
Games and gambling: 
Offers to register on web sites featuring bingo, gambling and scratch games, for example
Transport, autos, travel and holidays: 
Offers for petrol, roadside assistance, airline tickets, motoring holidays, skiing holidays, charter trips and summer house rentals.
Opting Out (Deregistration):

Should you wish to opt out of your data being used for these purposes, please unsubscribe.
The consequences of deregistration are that your account details will be placed in a suppression file and you will not receive any further communications from jobinaclick.net Every email that jobinaclick.net sends contains a link to unsubscribe.
Opting out at a later date
Once you have given your consent, you can however still control whether or not you continue to receive communications or see such advertisements from such third parties. The method of control depends on the channel of communication or advertising

Use of your personal information

We use your personal information collected via the Jobianclick website to:
Provide you with information about the products and services we offer
Provide you with a more personalised service
Conduct market research
Pass on to selected companies to provide you with other offers and promotions
Help other companies profile and extend their databases
Facilitate communication between yourself and others
For analysis purposes or to build data products. In these instances, the information is aggregated and wherever possible anonymised in line with the Information Commissioner's code of practice. Again, these products are of a marketing nature.
Security and storage of your personal information
Join The Triboo Ltd is committed to protecting the security of your personal information. We use a variety of security technologies and procedures to help protect your personal information from unauthorized access, use, or disclosure. For example, we store the personal information you provide on computer systems with limited access, which are located in controlled facilities.
The Internet is not a 100% secure medium for communication and, accordingly, Join The Triboo Ltd  cannot guarantee the security of any information you send to the jobinaclick.net website via the Internet. Join The Triboo Ltd has all reasonable precautions possible in place to ensure data is kept and processed fairly. Join The Triboo Ltd is not responsible for any loss or damage you or others may suffer as a result of the loss of confidentiality of such information.
Managing your personal information

Under thea law and the EU General Data Protection Regulation (GDPR) 2016/79., you are entitled to see the information held about you and you may ask us to make any necessary changes to ensure that it is accurate and kept up to date. If you wish to do this, please contact us via the Contact Page or email privacyuk@triboo.com 

Our Business Partners & Clients:

Brand processed by Lead 365, 6th Floor, Alexandra Warehouse, West Quay, Gloucester Docks, Gloucester, Gloucestershire, GL1 2LG,  Companies House - 09973434
Utilita Energy Limited
Secure House, Moorside Road, Winchester, Hampshire, SO23 7RX
Privacy Policy = https://utilita.co.uk/terms 
Telephone channel
Utility sector
Company number - 04849181
Nabuh Energy
2 Pinfold St, Sheffield S1 2GU
Privacy Poloicy = https://www.nabuhenergy.co.uk/privacy-policy/
Telephone channel
Utility sector
Company number - 09812753
Boost Power
OVO Energy Ltd, trading as Boost, 1 Rivergate, Temple Quay, Bristol, BS1 6ED
Privacy Policy = https://www.boostpower.co.uk/privacy-policy 
Telephone channel
Utility sector
Company number - 06890795
Green Star Energy
3, Elder House, 586-592 Elder Gate, Milton Keynes MK9 1LR
Privacy Policy = https://www.mygreenstarenergy.com/about-us/terms-conditions 
Telephone channel
Utility sector
Company number - 05936023
Octopus Energy Ltd
33 Holborn, London, EC1N 2HT
Privacy Policy = https://octopus.energy/policies/privacy-policy/ 
Telephone channel
Utility sector
Company number - 09263424
ESB Energy
Tricor Suite, 4th Floor, 50 Mark Lane, London, EC3R 7QR
Privacy Policy = https://www.esbenergy.co.uk/our-policies 
Telephone channel
Utility sector
Company number – 09688977
TOTO Energy
1st Floor Locksview East Lockside, Brighton Marina Village, Brighton, East Sussex, England, BN2 5HA
Privacy Policy = https://www.totoenergy.com/privacy-policy
Telephone
Utility sector
Company Number – 09256482
SKY UK Ltd – please list as a sponsor/data controller.
Grant Way, Isleworth, Middlesex, TW7 5QD
Privacy Policy = https://www.sky.com/help/articles/sky-privacy-and-cookies-notice
Telephone / SMS & Email channel
Media, Telecoms, Telecommunication, Utilities, Broadcaster, TV
Company number - 02247735
Carphone Warehouse
1 Portal Way, London, W3 6RS
Privacy Policy = https://www.carphonewarehouse.com/terms-and-conditions/privacy-policy.html 
Your information will be passed to Carphone Warehouse for the purposes of promotions by phone.
Telephone channel
Broadband, TV & Telco
Company number – 06534088
Shell Energy Retail Limited
Shell Energy House, Westwood Way, Westwood Business Park, Coventry, CV4 8HS
Privacy Policy = https://www.shellenergy.co.uk/info/policies/privacy
Your information will be passed to Shell Energy Retail limited for the purposes of promotions by phone.
Marketing Channel = Telephone & SMS
Verticals = Utilities, Energy, Broadband & Shell Energy ancillary products
Company number = 05070887
Bulb Energy
155 Bishopsgate, London, EC2M 3TQ
Privacy Policy = https://bulb.co.uk/privacy/
Telephone channel
Utility sector
Company Number – 08469555
Orbit Energy
Lower Ground, Castlewood House, 77/91 New Oxford Street, London, WC1A 1DG
Privacy Policy = https://orbitenergy.co.uk/privacy-policy
Telephone channel
Utility sector
Company number - 09933313
GoGroopie
Company Number - 07363687  
Part of Digitise Labs Limited
Company Number - 09703888   
Regus, Alpha House, 100 Borough High Street, London, England, SE1 2LB  
Privacy Policy - https://www.gogroopie.com/privacy
Email marketing
Daily Deals
Discount Experts 
Company Number - 10446689
Part of Digitise Labs Limited
Company Number - 09703888   
Regus, Alpha House, 100 Borough High Street, London, England, SE1 2LB  
Privacy Policy - https://www.discountexperts.com/privacy 
Email marketing
Daily Deals
Synergy Consumer Club
1 Flanders Place, Birkdale House, Mount Edgecombe, Durban, South Africa, 4301
Privacy Policy = https://synergycontactcentre.com/privacy-policy/
Telephone channel
Sectors =
https://synergycontactcentre.com/offerings/
Our Business Partners & Clients: